Super Mario Bros. 2
is the second (fifth in Japan) game in the
Super Mario
series. It originally was for the NES, but was subsequently ported to many other systems. The game was originally released in America on October 9,
1988
; and in Europe on April 28,
1989
.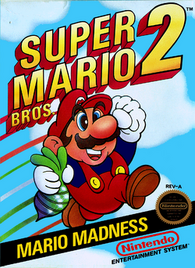 Super Mario Bros. 2 initially started out as the prototype sequel to the original Super Mario Bros.; however, it was scrapped during its development, and was replaced by Super Mario Bros.: The Lost Levels. The reasons included the technical limitations of the NES system making it difficult to produce a polished game featuring a vertical orientation and multiplayer features conceived for the project. It was decided to add more Mario-like elements, such as horizontal levels (though many veritcally oriented levels were retained in the final project). Being that the game had went through some development, The game was changed in order to fit with the theme of the mascots of the company and their adventure. Regardless, it used the same engine as the original developed Super Mario Bros. 2, and also kept some of the Mario elements such as the items and basic game play in its reference.
STORY

In the game, Mario, Luigi, Princess Toadstool and Toad travel through the world of Subcon, the world of dreams, which is ruled by the giant frog-like creature, Wart. They enter Subcon through a cave they find while on a picnic trip. They were called by the Subcons, who were captured by Wart. Wart has captured the Nightmare Machine, which controls all dreams. During the adventure, our heroes fight Wart's army, the 8 bits, and his generals, Birdo, Mouser, Clawgrip, Fry Guy, and Tryclyde.
After they reach Wart's Castle, one of the four heroes battles Wart with vegetables, which are flung from the Dream Machine, on the floor near Wart's platform, forcing them into his mouth to defeat him. After defeating him, the hero then advances to the next room where they free the Subcon fairies from a clogged jar. The Subcon fairies then fly around the hero and then the screen reveals a celebration ceremony. As Mario, Luigi, Toad and the Princess celebrate their victory, the Subcon fairies cheer for the heroes (while passing around the defeated body of Wart). Suddenly, the screen focuses on Mario as he wakes up for a brief moment before drifting back into a deep slumber. This concludes that the entire adventure appeared to be nothing more than a part of Mario's dream (though it is possible that the adventure took place before in reality).
ENEMIES
| Albatoss | |
| --- | --- |
| Autobomb | |
| Beezo | |
| Bob-omb | |
| Cobrat | |
| Flurry | |
| Hoopster | |
| Ninji | |
| Ostro | |
| Panser | |
| Phanto | |
| Pidgit | |
| Pokey | |
| Porcupo | |
| Shy Guy | |
| Snifit | |
| Spark | |
| Trouter | |
| Tweeter | |
| Whale | |
BOSSES
| Birdo | |
| --- | --- |
| Mouser | |
| Red Birdo | |
| Tryclyde | |
| Fryguy | |
| Mini Fryguy | |
| Gray Birdo | |
| Clawgrip | |
| Green Birdo | |
| Wart | |
List of Levels
Edit
World
Terrain
Level
Enemies found (first introduction in bold)
World 1
Grass
1
Shy Guy, Tweeter, Ninji, Hoopster, Pink Birdo
2
Pidgit, Beezo, Phanto, Ninji, Shy Guy, Snifit, Pink Birdo
3
Snifit, Shy Guy, Trouter, Ninji, Spark, Phanto, Tweeter, Mouser
World 2
Desert
1
Cobrat, Snifit, Shy Guy, Panser, Pink Birdo
2
Cobrat, Beezo, Shy Guy, Pokey, Panser, Ninji, Snifit, Red Birdo
3
Shy Guy, Beezo, Cobrat, Pokey, Tweeter, Phanto, Spark, Panser, Tryclyde
World 3
Grass
1
Shy Guy, Pidgit, Beezo, Panser, Red Birdo
2
Shy Guy, Ostro, Beezo, Tweeter, Porcupo, Red Birdo
3
Albatoss, Bob-omb, Shy Guy, Ostro, Ninji, Spark, Snifit, Phanto, Tweeter, Panser, Ninji, Mouser
World 4
Ice / Snow
1
Flurry, Trouter, Shy Guy, Autobomb
2
Beezo, Flurry, Snifit, Shy Guy, Autobomb, Porcupo, Red Birdo,
3
Pink Birdo, Flurry, Shy Guy, Phanto, Beezo, Fryguy, Mini Fryguy
World 5
Grass (night)
1
Shy Guy, Ostro, Panser, Trouter, Gray Birdo
2
Bob-omb, Hoopster, Shy Guy, Ostro, Porcupo, Panser, Ninji, Beezo, Snifit, Trouter, Red Birdo,
3
Albatoss, Bob-omb, Panser, Spark, Shy Guy, Snifit, Pidgit, Red Birdo, Clawgrip
World 6
Desert
1
Cobrat, Shy Guy, Pokey, Panser, Phanto, Green Birdo
2
Albatoss, Panzer, Beezo, Green Birdo
3
Shy Guy, Pokey, Cobrat, Bob-omb, Ninji, Hoopster, Snifit, Red Birdo, Tryclyde
World 7
Cloud
1
Albatoss, Bob-omb, Ninji, Shy Guy, Spark, Tweeter, Snifit, Hoopster, Gray Birdo
2
Snifit, Ninji, Shy Guy, Bob-omb, Panser, Spark, Tweeter, Red Birdo, Phanto, Hawkmouth, Wart