God of War: Ascension is the next installment in the popular God of War series, set for a 2013 release. It is the seventh game of the series, and will chronologically be the first chapter in the series, forming part of a saga with vengeance as a central theme.
It will predate Kratos' entire reign as the god of war, and supposedly features a timeline roughly six months after Kratos' unintentional killing of his wife and daughter. If confirmed, possible flashbacks could also occur, seeing as how this timeline follows his allegiance to Ares, which was already addressed in the original God of War.
It will mark a new chapter in Kratos' story, as its listing notes to "Join Kratos as he as he takes his first steps on a now legendary quest for freedom, redemption, and the clarity to avenge his family in the most ambitiuous God of War adventure in the series so far."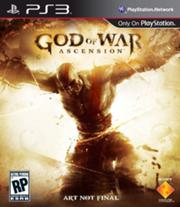 According to eurogamer , The single-player will feature a "revamped" combat and weapon system, "promptless" mini-games and new puzzles. Sony stated the game will offer "fluid, life-like characters, dynamic lighting effects, and world-changing scenarios", although the story is apparently shorter than previous games.
The multiplayer part of Ascension, will feature multi-level arenas, where several players can fight one another. One specific level requires players to kill each other, while a chained cyclope, Polyphemus, interferes whenever players come too close. The multiplayer will most likely not allow not split-screen possibilities, but instead pan out whenever needed to actively show all participants.
Following Amazon's leak, game director Todd Papy wrote on the official PlayStation Blog, promising 'a glimpse of what's in store for God of War: Ascension' during a livestream event, which took place on Monday, April 30. A new God of War: Ascension page on the Sony Playstation facebook page also holds a trailer, and pre-order link to BestBuy.
Game director Todd Pappy has previously worked as design director on God of War III. He now takes a development role previously filled by David Jaffe, Cory Barlog and Stig Asmussen.
The game currently has a Spring 2013 release date pegged on its official PlayStation page.
The announcement trailer is voiced by the Titan Gaia. It tells about a time during Kratos' life before he was made the "Ghost of Sparta", when he was no longer bound in blood.
SOURCES:
God of War Wiki